I had the pleasure of Skyping with a group of teachers in Costa Rica last month. Although the focus of our live session was on pronunciation and speaking skills, we had time for Q&A at the end. One teacher asked me for ideas to make learning basic vocabulary more fun. I gave some tips off the top of my head, but I've since had more time to reflect. I'd like to share my thoughts here. Perhaps we can put our heads together and come up with even more suggestions.
Let's start with three key ingredients for a successful learning experience with vocabulary. It greatly helps if the materials are interactive, reusable, and personal or otherwise meaningful. 
It goes without saying that a single study lesson shouldn't overload a student with too many words. One thing I like about Learning Chocolate is that all the basic vocabulary has been grouped into learnable amounts. Each category offers several forms of interactive exercises, which can certainly be done as many times as the user wishes. The next step is to personalize the experience.
I suggested the use of short videos shot with a smartphone or a narrated photo album with Shadow Puppet Edu. Students can often find objects in and around their homes to represent common vocabulary: clothing, personal care products, cookware, technology, etc. Working alone or in pairs, students can create 30-second videos in which they put the vocabulary to use, explaining what each item is: This is my phone. It's an iPhone. This is my computer. It has a screen and keyboard. It's not new, but I like it. I use Windows.

The beauty of such a project is that the process becomes personal, and that in turn makes the content more memorable. Moreover, the end product is reusable. Classmates can watch one another's videos and the frequency of word exposure increases. To be sure students are hearing standard grammar, scripts can be corrected before recording. However, Shadow Puppet allows users to easily edit a project, so a file can be posted, edited, and then shared again.
An alternative to using existing materials online or in print is to have students create their own picture dictionary. The use of Google Slides for flashcards was mentioned in one of my TESOL 2018 highlights. Google Slides conveniently allows users to insert images. We can steer students towards "safe" sights like Pixabay and GIPHY. GIFs are a wonderfully engaging option for simple actions like run, jump, and sleep. Encourage silliness. If images are memorable, the words are more likely to be retained. One slide should have only the image, and the next slide will have the word and a model sentence:

SLEEP
The tiger is sleeping.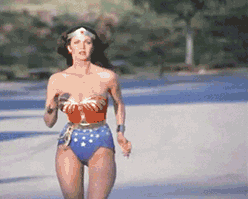 RUN
Wonder Woman runs fast.
Google Slides can be edited online, making corrections very easy. The final product is one that an entire class and even future classes can make use of. You can even make a second version of a file and create a fill-in-the-blank for every slide with text: (1) The tiger is ___. (2) Wonder Woman ___ fast. And so on. Students can take turns completing the sentences.
If Google Slides is used collaboratively, then speaking will take place alongside sentence writing. However, another option is to make use of Voice Memo or any other similar recording app to make sure practice goes beyond writing. Some learners have a fear of speaking, but the ability to record in privacy and without time constraints makes speaking aloud in English less stressful. A common task is to ask students to write examples. A spin on that is to have students record their sentences instead and submit their audio files to you. Then selected sentences can be played in class and used as a dictation. Speakers can remain unnamed to reduce any unwanted attention.
Got any other ideas for practice with basic vocabulary?
Related posts:
https://englishwithjennifer.wordpress.com/2009/09/28/its-in-the-bag-a-sure-way-to-teach-everyday-vocabulary/
https://englishwithjennifer.wordpress.com/2010/06/14/practice-with-practical-vocabulary/
Photo credit: Tic Tac Toe, Love, Heart, Play by pixel2013. Retrieved from the Public Domain at https://pixabay.com/en/tic-tac-toe-love-heart-play-1777936/.